Gallery of Heroes
Here we remember the horses and other animals who lived out their days at Peacefield Equine Sanctuary.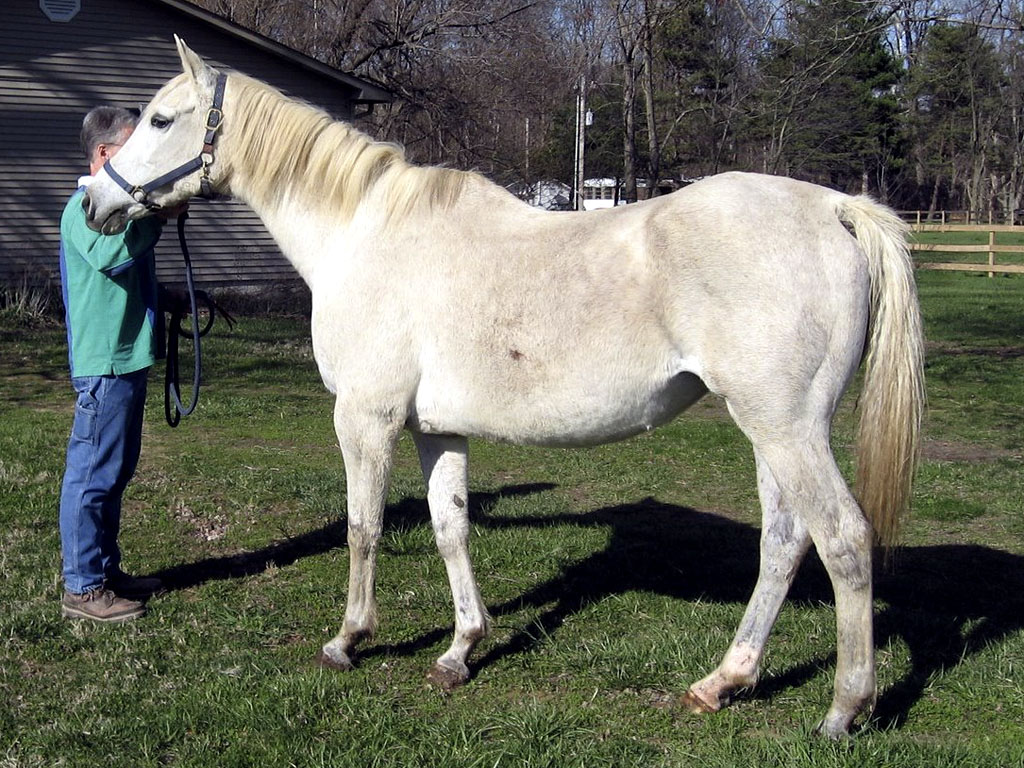 Never Let Go (aka Angel to us) was a twenty year old retired Thoroughbred broodmare who had become barren and was going to be destroyed when Peacefield intervened with the help of Jim and Jan Carmichael. Angel Loved people and couldn't get enough attention--the more grooming, carrots, and petting, the better! She had melanoma and the Sanctuary was exploring some alternative treatments for her with some limited success, with the help of Dr. Julie Anderson of Rockville Veterinary Clinic. Unfortunately, the measures only helped for a time and eventually the tumor, which was near her tail, grew so large that she was no longer able to perform basic bodily functions. So, we laid her to rest in August of 2009. Rest in peace, Angel Girl....we loved you very much.

Never Let Go was a granddaughter of Tom Fool and My Babu and had nine babies in her lifetime, three of which earned winnings at the track. Wasn't she absolutely beautiful? We thought so.
Shy was a nine year old chestnut Quarter Horse mare that came to us in April of 2008. Her owners were going to have her destroyed because she was not rideable and we volunteered to help. She had a terrible case of rain rot and was very underweight—about a 3 on the Henneke scale. She was not able to be ridden because of two bad knees—chips that had been contracted through years of barrel racing. We volunteered to step in and help because we wanted to see if we could get her comfortable enough to be a pasture pet. Through the summer Shy did very well, gaining weight, the swelling in her knees greatly reduced. However, as fall came, increased calcification in her knees made it progressively difficult for her to walk. The difficult decision was made to humanely euthanize her in the Fall of 2008.
Shy is the first inductee into our "Gallery of Heroes" for her courage and tenacity in the face of incredible pain and disability. We will never forget her.
Cobber Corgwyn Winifred, aka Winnie, was a Welsh Corgi bred locally by Chris Marks. She joined our herd at 12 weeks of age and departed it in 2016 at 12 years old. We miss her terribly.